Trending News
Mar 2018
Things to Consider When Entering the Japanese Market
Mar 2018

Among law firms in Japan, Anderson Mōri & Tomotsune ("AMT") has one of the longest and most distinguished records of assisting companies to enter the Japanese market. For years, we have successfully helped our clients smoothly navigate the Japanese legal regime by offering a practical, results-focused approach. Our comprehensive services aid clients in establishing and maintaining their Japanese presence in a locally compliant and culturally consistent way.
1. What Type of Business Presence Should We Establish?
An overseas company entering the Japanese market has several alternatives with respect to the choice of business entity, including:
a Japanese branch office;
a wholly-owned Japanese subsidiary in the form of a limited liability stock corporation (Kabushiki Kaisha or "KK"); and
a wholly-owned limited liability membership company (Godo Kaisha or "GK").
The following chart compares and contrasts some characteristics of these types of business entities in Japan.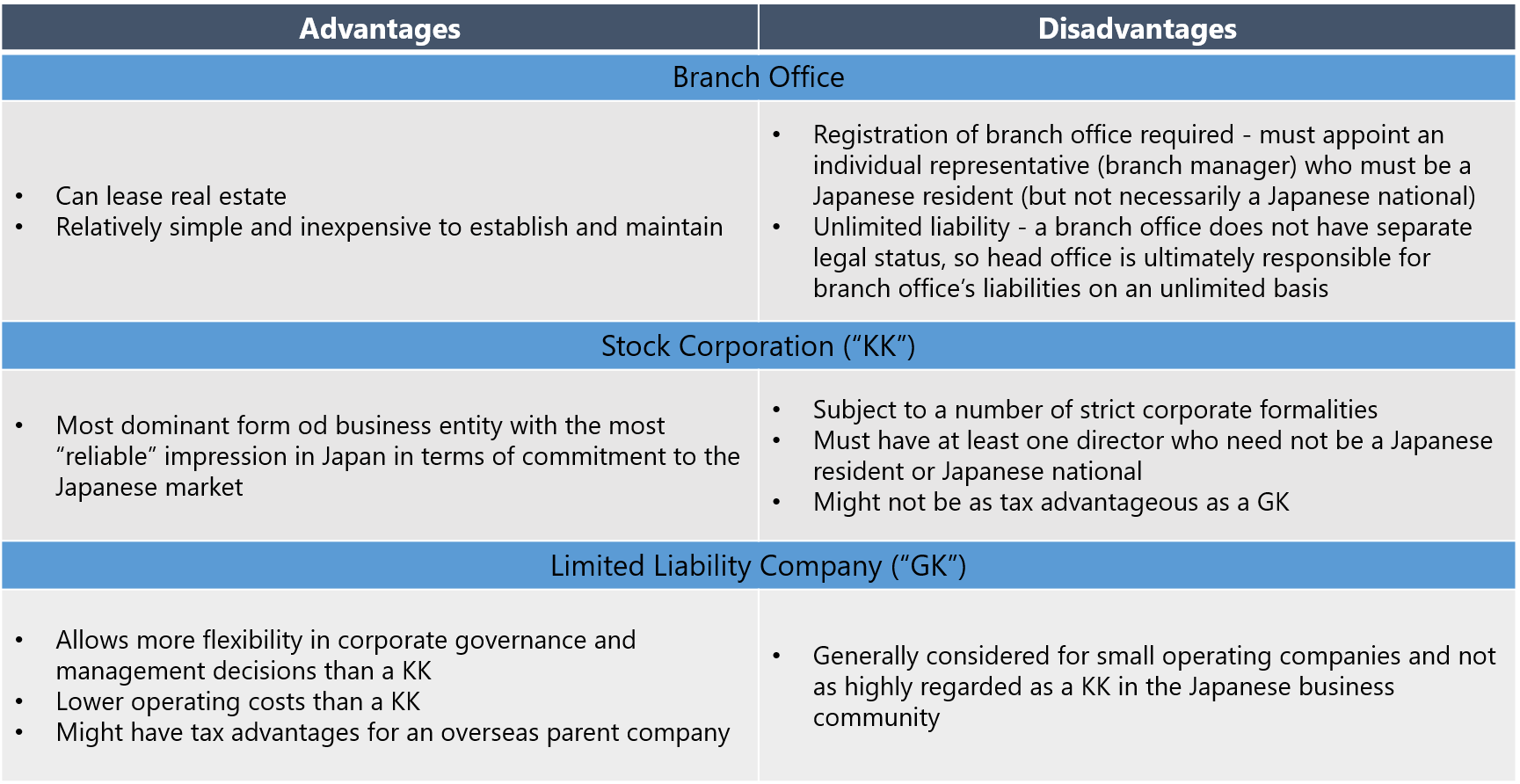 2. What Is the Business Tax Regime in Japan?
In general, Japan is a comparatively high tax jurisdiction. The primary tax burden is the corporate income tax. Currently, the overall effective tax rate (national and local) on a corporation's income is approximately 30%.

An overseas company that establishes a branch office in Japan will be subject to corporate tax only on its Japan sourced income.

A KK or GK will be subject to corporate tax on its worldwide income.
Primary Taxes
Corporate income tax
Consumption tax (VAT-type tax)
Withholding tax
Other Taxes
Customs taxes
Real estate acquisition tax
Fixed asset taxes
3. Is Japan an "Employer Friendly" or "Employee Friendly" Jurisdiction?
Japanese employment law has evolved significantly over the last 20 years, particularly with respect to the concept of "life time" employment. Nevertheless, Japan is still generally considered employee friendly and retains some uncharacteristic employment practices. For example, the legal concept of redundancy in the Western sense does not exist in Japan, and the termination of indefinite term employees can be particularly complex and difficult.

It is therefore essential to plan your Japan employment strategy carefully. We have extensive experience providing advice about the employment options for your Japan staff and the legal distinction between employees and directors of Japan subsidiaries.

Further, if you plan to dispatch a non-Japanese national to work in Japan, it will generally be necessary to apply for and obtain a work visa. That process can take several months. AMT has bilingual immigration specialists on staff who can efficiently and effectively execute these procedures.
4. Protecting Your Valuable Intellectual Property in Japan
Your trade name and trademarks are valuable. Thus, when you launch your business in Japan, it is essential to protect them. This can be achieved by applying in Japan for registration in the relevant classifications. To assist you in this endeavor, we have a team of bilingual Japanese trademark lawyers (benrishi) who can handle your trademark filings with the Japan Patent and Trademark Office

Additionally, brand owners in Japan occasionally face competition from products imported through parallel import channels, including internet platforms. These products can be both genuine and non-genuine. Our skilled IP lawyers have a history of success with assisting overseas clients to protect their brands in Japan.
5. Others Issues to Consider
Depending on the type of business and your strategy, you might need to address other issues, including those raised by matters relating to:
Supplier-Distributorship Arrangements;
Regulatory Compliance;
Consumer Protection (B2C);
Data Privacy;
Stock Option Plans; and
Office Leasing.
6. Reference Sources
The Japan External Trade Organization (JETRO), a Japanese governmental organization, has a helpful website in English to assist those seeking to establish a business in Japan.
https://www.jetro.go.jp/en/
Because we enjoy a good relationship with the JETRO, we can assist our clients by making introductions.
Introduction to Japanese Business Law & Practice (Third Edition) (in English)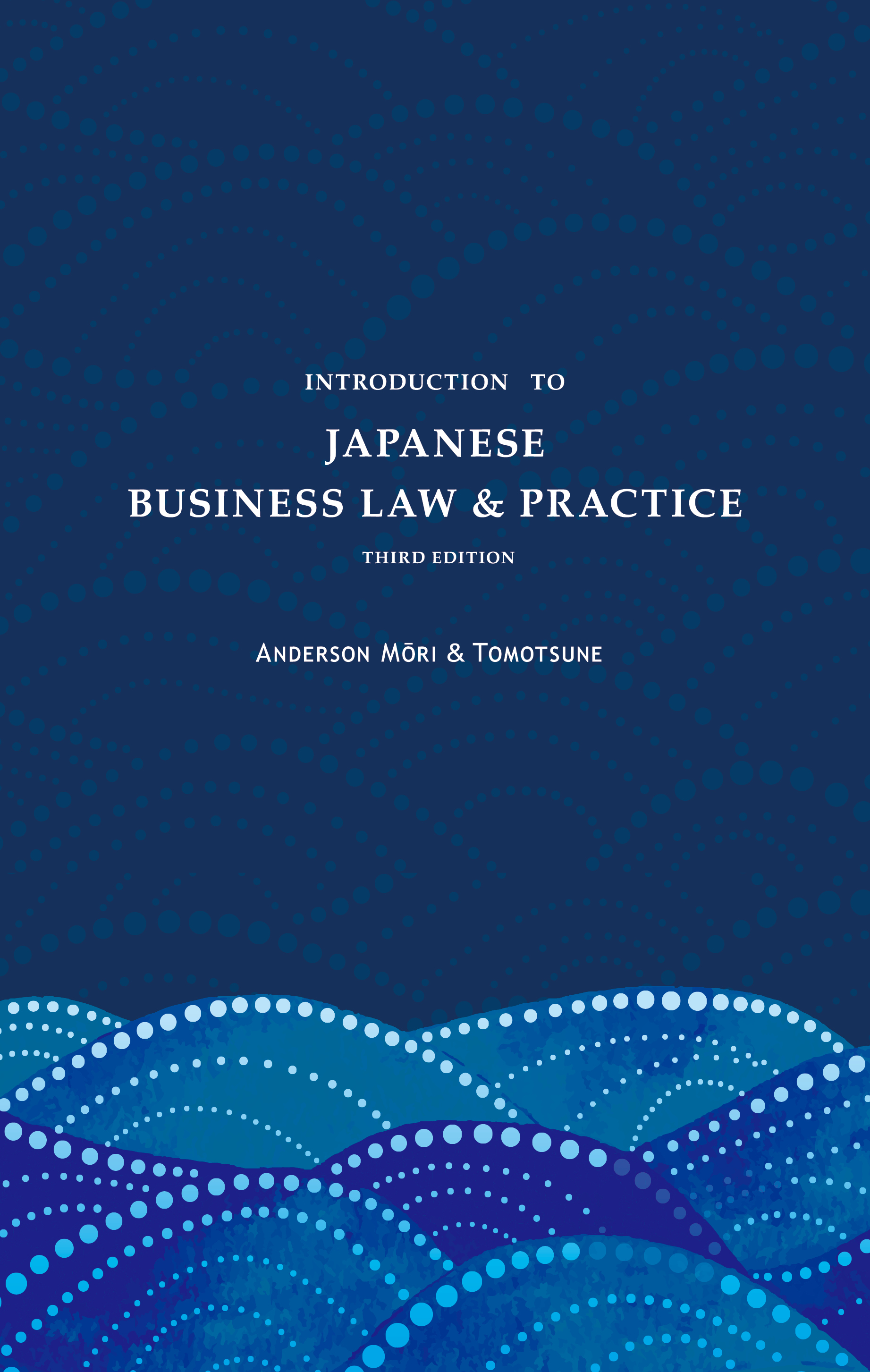 For an in-depth discussion of a wide spectrum of legal issues faced by overseas companies doing business in Japan, please see our publication, "Introduction to Japanese Business Law & Practice" (September 2017). Authored by specialists of our firm, AMT's publication addresses topics such as:
The Companies Act;
M&A;
Listing and Public Offerings;
Intellectual Property Rights;
Anti-trust/Competition;
Taxation;
Employment Law;
Insolvency and Restructuring; and
Dispute Resolution/Litigation.
Further details of this AMT publication can be found here.
Related links